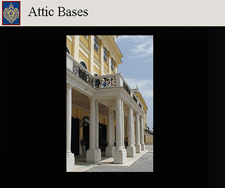 Imperial Productions ®
Attic Bases
Standard & Custom Sizes
Introduction to Custom & Standard Model of Attic Bases
Attic Bases are classical elements used with Doric and all decorative
columns - Roman Corinthian, Roman Ionic, Scamozzi and
Temple of the Winds. Unlike the Tuscan Bases, they have two profiles
on the round section (torus) that are separated by a hollow concave molding (scotia).
They can be custom made as per your specifications or are available in standard models made from
molds. The products from molds are hollow with the columns load bearing through the shaft directly
to the substrate. Hardwood attic bases can be made for detailed historic reproduction.
Imperial can create custom reproductions for partial or whole Bases see Custom Attic Base Page
Fast Track to Base Size on this page
1)

2)
3)

4)
5)

6)
7)

8)
9)

10)
11)

12)
13)

14)
15)

16)
17)

18)
19)

20)
21)

22)
23)

24)
25)

26)
27)

28)
29)

30)
31)

32)
33)

34)
How to Order Products 1-800-399-7585 416-264-6096

* All Prices & specifications in this website subject to change without notice

* Prices are net, Freight, Taxes & Duties charged where applicable otherwise client is responsible for remittance

* Measurements are approximate only, Final Product may vary from this website

COPYRIGHT MRDCI Martin Richards Design and Contracting Inc, Martin Richards DesignTM

and Imperial Productions® Feb 2018 all rights reserved

Last Update SEP-19